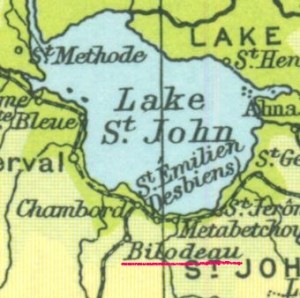 Here is a brief history from Names and places of Quebec: illustrated dictionary 2nd Edition Copyright 1996.
Bilodeau (hamlet) sits on eastern bank of the lake Duck, the hamlet of Bilodeau is attached to the territory of the municipality of Saint François de Sales, in the area of the Lake-Saint-Jean. The hamlet Bilodeau first appears at the beginning of the 20th century to indicate the name of a station of the Canadian National Railway.
It undoubtedly evokes the memory of the one of the first inhabitants of Saint François de Sales. Some dwellings were grafted around the railway gate. Thanks, for all the help from those of you who emailed me on where to look for more information on the Bilodeau hamlet. I'm still hoping for some pictures from Bilodeau or maybe a postcard. If anyone has any more information please email me at jim@bilodeau.org I would really appreciate it.
Look! Other   Bilodeau place names I found while researching the town of Bilodeau!

See if you can find Information on them too!

NAME / NOM

TITLE /   ENTITÉ

PLACE / LIEU

POSITION

LAT. / LONG.

Bilodeau

Hamlet /   Hameau

Cton de   Dablon

Cté de Lac Saint Jean Ouest

48.20 /   72.10

Bilodeau

Island / île

Cton de l'   Archipel du Vieux Fort

Cté de Saguenay

51.19 /   57.55

Bilodeau

Lake / Lac

Cton de   Pommeroy

Cté de Témiscamingue

47.06 /   78.47

Bilodeau

Lake / Lac

Cton de   Laurier

Cté de Champlain

47.23 /   72.14

Bilodeau

Lake / Lac

Cté de   Charlevoix Ouest

47.39 /   71.02

Bilodeau

Lake / Lac

Cton de   Dablon

Cté de Lac Saint Jean Ouest

48.20 /   72.10

Bilodeau

Lake / Lac

Ctons de   Bégin et de Falardeau

Cté de Chicoutimi

48.44 /   71.13

Bilodeau

Lake / Lac

Cté de   Saguenay

50.33 /   64.33

Bilodeau

Mount / Mont

Cton de   Ditchfield

Cté de Frontenac

45.31 /   70.49

Bilodeau

Point /   Pointe

Cté de   Saguenay

49.08 /   62.39

Bilodeau

River /   Rivière

Cté de   Saguenay

49.08 /   62.38

Bilodeau

Brook /   Ruisseau

Cton de De   Monts

Cté de Saguenay

49.25 /   67.19

Taken from   "Repertoire Geographique du Quebec" Copyright 1969